Find My Own Way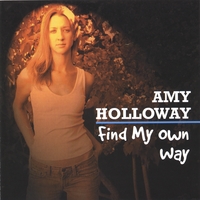 Find My Own Way is the full-length debut CD from Bay Area artist Amy Holloway.
With a batch of original songs written specifically for Amy's voice and style, this CD showcases an exciting and very appealing young artist. The arrangements bring some big rock and roll hooks, some catchy pop, and plenty of smiles.
Get "Find My Own Way"
Now available on CDBaby, Amazon, and iTunes.
News
Watch the AlsTunes blog for news!